What Is Local SEO?
For small businesses, a website that has superior Local SEO can be a virtual game changer. According to Google, over 46% of searches have some kind of local intent. When it comes to home service businesses like plumbers, HVAC, remodelers and contractors, having the top spot for relevant keywords automatically means additional leads and motivated customers. Curious as to why this is the case? Well, according to Google itself, 97% of consumers use search to find local businesses. Meanwhile, 41% of consumers use Google EVERY WEEK to find local businesses.
That's a lot of searches from a lot of consumers. What's more, this isn't an unfocused searcher, but instead often a motivated would-be customer. So why aren't companies all running with cash in hand to find their nearest local SEO expert to help them dominate the listings? A good question – but it does break down to the fact that few really understand what really top notch Local SEO will do for them.
Local San Diego SEO Companies Do This Optimization Service Where?
First, let's put the most obvious point on the table. When we're talking about Local SEO in almost any capacity, we are talking about Google. While there are still SEO companies that oddly cling on to Bing as some kind of player or performer, or even Yahoo (which uses some Bing results), the facts have been clear for a number of years – the ONLY search engine in town is Google. With all due respect to GoDuckGo, which is fantastic, but has little to no actual visitor base, the mainstream definition of Local SEO has to do with ranking and being listed when someone does a search.
The Google Maps 3 Pack
The gold standard, as in the top place that any business serving local customers wants to be, is in the Google Maps pack. As of this article, Google DOES NOT CHARGE its customers for leads received from the Google Maps pack, which we've all seen if we've ever done any kind of search on Google. Not to toot our own horn, but the image below is a pretty good example of a local search in Google (man, you CANNOT go wrong with that #1 listing! Call that high performing company today!) and what the three pack often looks like.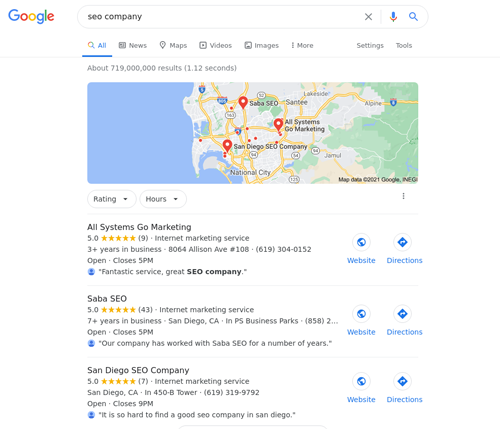 As you can see, you've got a search, you've got the map with a few pins kicking around, and then you have three listings. The cited figure does tend to change quite often, but suffice to say that AT LEAST 75% of searchers with intent to buy or looking to at least research a purchase is going to click on one of the top three results. For most companies, that means a customer that likely has never heard of your company or brand, and are using Google's "Local Authority" to make a decision FOR them.
Google Says It's Good, So…
What's interesting here as well is that apparently 8% of folks DO NOT EVEN check out the website of the listing. This makes some sense as well, as so many searchers today use their phone, and aren't messing around with deep research. And, the research that is relevant to them tends to already be there – i.e. the location, what people think of your company (reviews) and all of your contact information. In a lot of cases, these folks are looking for a product/service and they're gonna get it by either visiting the address of the company (for retail situations) or by calling a service provider (such as HVAC, plumber, tree service, etc). The value of this mechanism can be absolutely monstrous for companies that recognize its value.
The Obvious Google MyBusiness Listing Question – Why Am I Not Ranking?
The key to any company ranking in local results is grabbing itself a Google MyBusiness Listing. This listing is currently completely free, and if you have a number of businesses, you can list every single one of them with a single Gmail account. It's completely free! But does that mean that you're going to AUTOMATICALLY RANK? Of course not. But as your business grows, as it gains positive reviews, as Google begins to see that people are visiting your website, it can rank. I mean, it's a possibility.
Unfortunately, very few companies can run their business on "possibilities" or "potential customers". Instead, they want paying, interested customers. They want them now and they want as many of them as they can get. So just applying for a listing isn't going to do it. Much like the Yellow Pages of old, buying a listing isn't going to do it. Companies NEED the visibility that the Google Maps pack provides, otherwise they're taking their reach from getting in front of 95% of local searchers to the less than 10% level that consists of folks that decide Google's page 1 is NOT ENOUGH, and they're gonna have to go deeper to get what they want.
What The Best Affordable Optimization Experts And Specialists Are Looking For
No one is burning any midnight oil looking to grab that 10% of page 2 searchers. The urgency (and likelihood of purchase) just simply isn't there. So the smart business owner needs to be on page one, in that first three listings when a searcher is looking for a company that provides their service.
To get into that Maps 3 pack, there are a number of major things that need to be done to ensure Google sees your site and rewards it with that placement. You need consistency. There are citations to be had, for sure, but you also need a great website – according to Google, 46% of searchers WILL NOT EVEN CONSIDER a company without a website.
Top Rated Internet Marketing Services Companies HAVE a Rock Solid Process
But most of all, in order to get consistent local SEO results, you need a process. The right company that is focused on ensuring you are getting local leads should be focused not on a few, interesting positions – they should be focused on ALL OUT DOMINANCE. It's as simple as that.
This is why at All Systems Go Marketing we never take two of the same types of companies on as clients in the same area. How can you tell one company you're going to make them the dominant force in Local Google Search when you're working with a competitor?
You can't. You just cannot.
If you're curious if you can dominate your area using Local SEO, feel free to give us a call or contact us here.
Read more here: